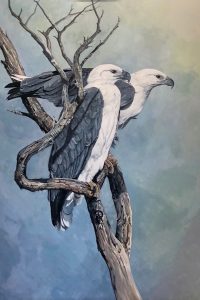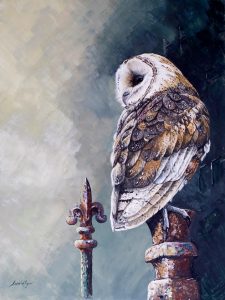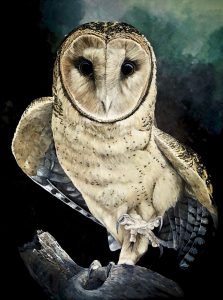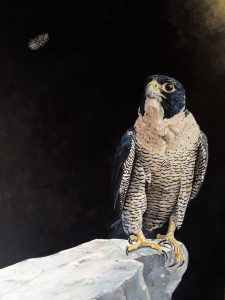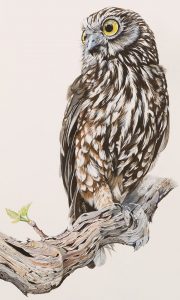 The Raptor Refuge is very excited to announce this wonderful opportunity for artists and lovers of Tasmania's magnificent raptors to join the award-winning nature artist Katherine Cooper for a unique weekend experience working with Tasmania's magnificent raptors and owls.
This is an exclusive opportunity limited to 10 participants to meet the man behind the Refuge, Craig Webb, for an intimate showing of selected birds plus an informative introductory tour.
The two-day workshop allows participants access to view the raptors up close together with experts in their field.  Lunch plus morning/afternoon tea is also provided.
Katherine is an international award-winning nature artist and passionate environmentalist. Her work is dedicated to raising awareness for our wildlife and their habitats.
Much of Katherine's life has been spent living on Bass Strait Islands,Tasmania, surrounded by wild seas and abundant subject matter. Her passion for these wild places resulted in a six month art residency on Shetland – a group of 100 islands nestling in the North Sea off the coast of Scotland.
During the course of many island beach walks it became increasingly obvious that the issue of plastic waste was becoming a major problem but it was in Shetland that her interest in seabirds and ingestible plastic waste was further peaked.
Creating greater community awareness of this enormous problem has become a priority in her work resulting in the formation of the art/science collaborative group 'Vanishing Point' in 2015. www.vanishingpoint.net.au
Recent Awards
Society of Animal Artists 59th Juried Exhibition, San Antonio, Texas USA 2019
Winner of the Wrest Point People's Choice Award 2017
Winner of the National Holmes Art Prize 2015 and Finalist in 2016
Finalist in the BBC Wildlife Artist 2011/12
Memberships
Art Society of Tasmania
Society of Animal Artists USA
Wildlife Art Society of Australasia
Salamanca Arts Centre
Art Tutor and Art Workshops
Grampians Brushes
Raptor Refuge
Salamanca Arts Centre