Our Partners
Tasmania Parks and Wildlife Service
The Tasmania Parks and Wildlife Service is proud to be in partnership with the Raptor and Wildlife Refuge of Tasmania. PWS has worked with the refuge to establish a quality educational program for the Education Centre. PWS staff have developed signs for the site, a range of educational materials and provided raptor specimens.
Parks' experienced Discovery Rangers deliver entertaining and educational presentations to each school group that visits the centre. Here Miriam Fokker, from Parks and Wildlife, delivers a session in the Education Centre to a school group.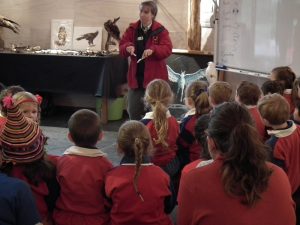 Groups may book a session at the Education Centre, strictly by appointment only.