Latest News
Releases
Late 2011 – 2013 have been exceptional years for releases, with many birds making it back to the wild after periods of rehab here. These periods ranged from weeks to many months, but the result of releasing a bird back to the wild still remains a source of many "tingly" feelings. Every release is a fantastic outcome for these birds that have been injured mainly due to encounters with some of the tricks and traps created by "us humans".
A few of the birds released have been, Wedge-tailed Eagles, White-bellied Sea-Eagles, Brown Falcons, Swamp Harriers, Southern Boobook Owls, Masked Owls and Grey Goshawks.
Some of the more documented releases are listed below: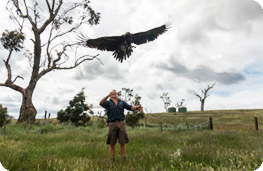 December 2013
A female Wedge-tailed Eagle from the east coast, in care for several months, after being brought into the Raptor Refuge, injured and unable to fly. Watch the video of the release!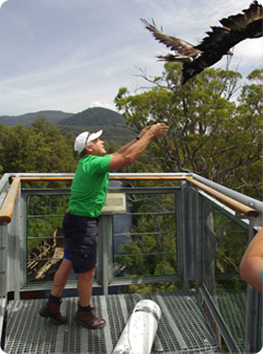 January 2013
A four year old Wedge Tail Eagle in care for 8 months. Released from Forestry Tasmania's Tahune Airwalk.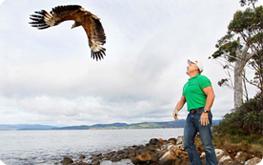 October, 2012
Trapped in Huon Aquaculture's Dover farm nets. This White Bellied Sea Eagle needed 10 days R & R to get over its exhaustion and hypothermia. Divers from the farm managed to free the bird with no broken wings or legs so the recovery time was kept to a minimum.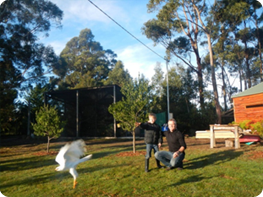 June 2012
Grey Goshawk (white morph) father and son release after a few months of rehab after bird sustained collision injury.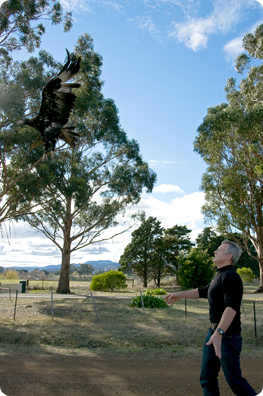 May 2012
The release of a Wedge-Tailed Eagle, which been at the refuge for 12 months recovering from a gutless shotgun attack. It's now free to enjoy it's new home around the Coal Valley.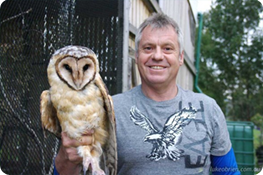 November 2011
A young female Masked Owl before being released. Upon release she flew straight to the top of the nearest gum tree, and is now free to make a home in the hills around Kettering.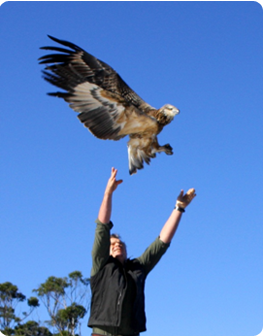 May 2011
This young eagle is free to make a new home in the picturesque D'Entrecasteaux Channel, just off Bruny Island.
The three-year-old juvenile eagle came to the refuge at death's door. It was severely malnourished and too weak to fly. During its five months at the refuge the bird gained more than a kilogram in weight.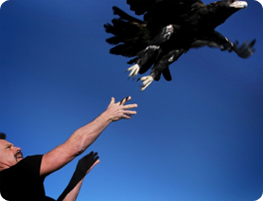 June 2010
This Wedge Tailed eagle recovered from soft tissue damage (muscle,tendon and ligament), requiring five months in care.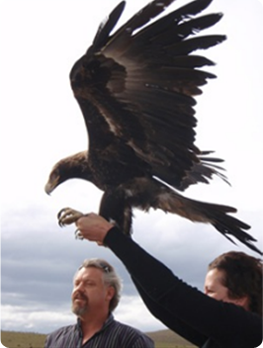 August 2008
Released in Oatlands Tasmania.
A lot of work goes into this process, and each day in the month leading up to the release, Vicki Silcock would arrive at the refuge. Always with her fingers crossed that the eagle was in good shape, eating well, and in particular, flying well.
The eagle was found at the side of the road after probably being hit by a car. It was rehabilitated for 3 months prior to release.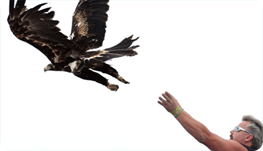 Jan 2008
A successful release of a young male Wedge tail from the summit of Mount Wellington. The Eagle had spent 12 months at the Refuge recovering from a shotgun wound.
There was almost a disaster on the way to the release. The wedgie had managed to loosen its restraints and made a bold bid for (early) freedom. Crises averted everything else went to plan.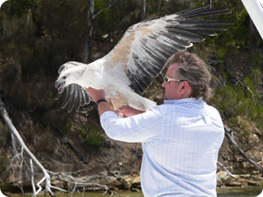 Jan 2006
Since The Sea Eagle had been doing 7-9 laps of the 80 meter circumference Aviary 4-5 times a day, it was pretty apparent that it was release time. He was in perfect condition with lovely new feathers after a prolonged 18-month period of recuperation.
He came in at a weight of 2.5kgs. He left at 3.52 kgs feeling very muscular.