Our Team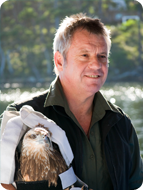 Craig Webb
In 1997 Craig returned to his birthplace of Tasmania after many years in the Kimberly working as a veterinary nurse and involved in all facets of wildlife care, he registered as a licensed wildlife carer with Nature Conservation branch of Tasmanian Department of Primary Industries, Parks, Water and Environment (DPIPWE).
A straight-talking and passionate advocate for the birds he cares for, most of whom are healing from the wounds caused by human incursions into their territory. Craig bought the 20 acres of land that the refuge is sited on about 16 years ago.
In the time since his single minded determination and commitment to Tasmania's birds of prey has seen him construct the largest flight aviaries in Australia. Sleepless nights saw him focus on solving the complex engineering challenges that allowed the salmon-fishing nets (almost two tonnes each) to be securely fastened with a series of ropes on pulleys, above and around the power poles that support them.

Anthea Wallhead
Anthea has been a volunteer since 2007. Her career as a teacher, small business manager and free-lance journalist has assisted Craig with the paperwork required for receiving Grants, a Wildlife Exhibition Licence, fund-raising and publicity. She is currently helping to organise information and materials for visitors to the new Education Centre.
Lynn Parlett
Lynn has had an interesting career in performing arts, film and television production, events management and marketing. She is currently the  Fundraising Coordinator for Camp Quality Tasmania. Originally from Canada, she moved to Tasmania in 1987 and after raising her family here has continued to live in Tasmania because of the clean environment and quality of life