Education Centre
Our purpose-built Education Centre is an amazing, octagonal structure, with an inspiring steel eagle sculpture by Keith Smith adorning the top of its glass turret. The Centre has been designed to not just fit into the natural bush setting, but to captivate and hold the imagination of young and old alike.
Inside there are surprises as well, with one-way glass viewing windows to three aviaries. These windows are set into three walls fitted with sound, acoustic grade insulation. This allows viewing of birds with appropriate temperaments at close quarters. The aviaries themselves, where birds are undergoing rehabilitation before being released back into their natural habitat, are not be accessible.
If you are interested in visiting the Raptor Refuge, you can make a booking via our online booking system with a secure paypal facility. Choose your date and time for a visit and get excited.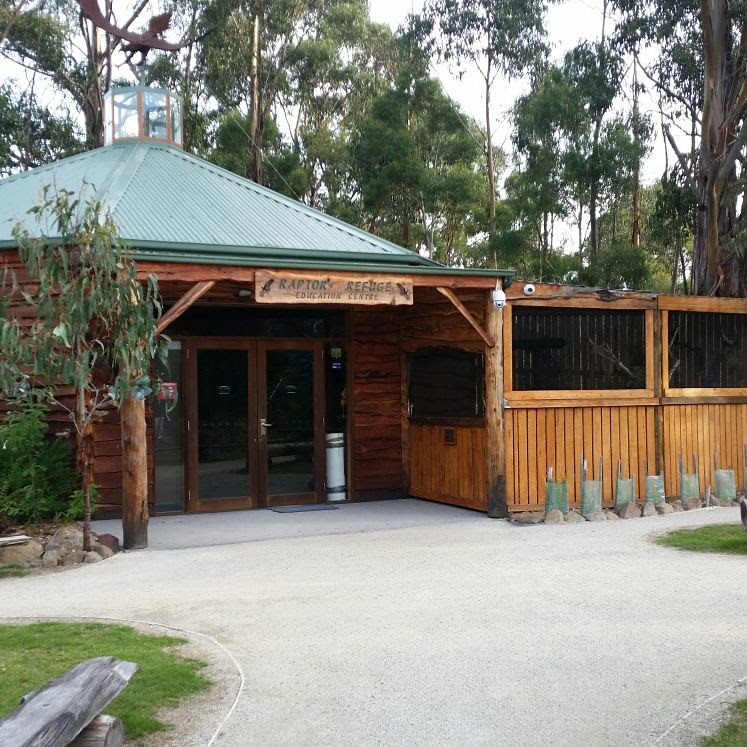 A wonderful educational experience, which will introduce students to Tasmania's magnificent raptors and provide close up encounters and hands on learning. Group fee $395, max 25 students, 2 hours duration. Students should bring paper, pens and clipboards for taking notes.
Inspirational and educational encounters with Tasmanian raptors – eagles, hawks, owls and falcons to name a few. Minimum cost $160 for 2 visitors, additional adults $60, additional children $35, 1.5 hour duration
Rescue to release workshops are are an excellent educational experience where you get to learn about everything from rescuing raptors to their eventual release after rehabilitation. It's great for the raptor and wildlife enthusiast. Adults $75, children $35, max 25 people, 2-3 hours.
Custom presentations and activities
Customised corporate presentations: price according to individual requests – email Craig
Photographers and artist workshops: price according to individual requests – email Craig
All prices are GST exclusive