Ok Raptor lovers, here it is...our simply stunning and greatest Raptor refuge calendar yet, the 2016 Edition is now available please click here& support Tassie's  Awesome raptors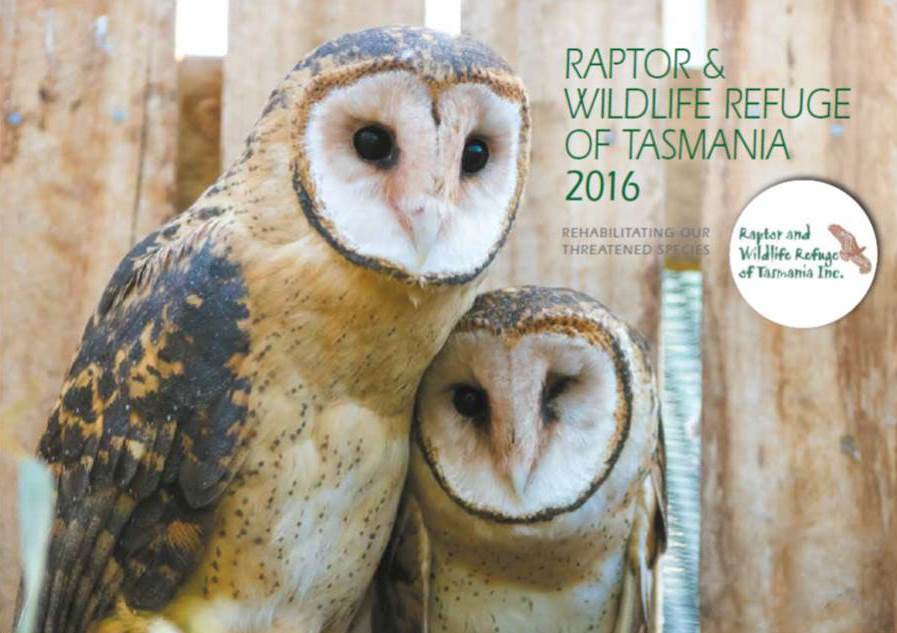 Membership
We depend on the generosity of the public to continue our mission. The easiest way for you to help is with an annual membership, collectively your donations help us immensely, so please  join us today.
---
Its Masked owl madness month at the Raptor Refuge

We are thrilled to announce the arrival of 2 gorgeous little Masked owlets.These magnificent creatures were hatched form the 22nd Sept 2015, the eggs were laid on approx 17th Aug,

The Female is a lovley big girl who came in for care 3 years ago, she had a broekn wing and as it turned out, an old eye injury, we patched her up and she can fly perfectly but is still unable to have full vision,

The male came in about 18 mnths ago and also had a broken wing, and an eye injury, we patched him up and he also can fly perfectly but vision is not 100%,

So there we have it, 2 gorgeous maske owls that are unable to return to the wild, I built them a purpose built Owl aviary, it is large and has some great trees growing to maintain a natural environment, it has a large pond and the whole aviary is certainly a beautiful haven for the beautiful birds,

here is a short video of Mrs Masked Owl tending to her owlets needs.

cam9_24-09-2015__04-01-01_04-05-59__CAM9

Raptor refuge video

This short video gives an insight as to what we do here at a "Working Raptor refuge.. showcases our partnerships and highlights our goals and visions

Make a TAX DEDUCTIBLE Donation 

Make donation for Raptor Refuge via WildCareTas.org.au

WILDCARE Inc has established the WILDCARE Raptor Rehabilitation and Research Fund as part of the Wildcare Gift Fund to support the care, rehabilitation, release and conservation of Tasmania's birds of prey, in partnership with Raptor and Wildlife Refuge Inc (Kettering Tasmania).