2015 Calendars now AVAILABLE
2015 Calendars now AVAILABLE - All photos birds are past and present patients.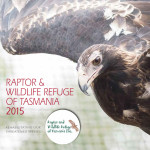 Click to to Purchase
Education Centre
Our purpose-built Education Centre is an amazing, octagonal structure, with an inspiring steel eagle sculpture by Keith Smith adorning the top of its glass turret. Book a Visit now!
Membership
We depend on the generosity of the public to continue our mission. The easiest way for you to help is with an annual membership, collectively your donations help us immensely, so please  join us today.
---
We have teamed up with Cradle Mountain Huts Walk – 22 April 2015

Join me for an extraordinary 6 days walking the iconic Overland Track. Each day we will explore Tasmania's Wilderness World Heritage Area, where we can discuss the varied landscape we are travelling through, with a specific focus on the amazing raptors which call this place home.

Discover the rare beauty and extraordinary diversity of the Tasmanian World Heritage listed Cradle Mountain – Lake St Clair National Park. Over 6 days, immerse yourself in this varied landscape whilst learning about the local flora, fauna and geology. Each evening is spent in one of 5 private huts nestled just off the track, with hot showers, private twin room accommodation and a superb three course dinner served with a selection of Tasmanian wines.

50% of all revenue from this walk will go directly into the Raptor Refuge. Spaces are limited so please book early to guarantee a spot.

Raptor refuge video

This short video gives an insight as to what we do here at a "Working Raptor refuge.. showcases our partnerships and highlights our goals and visions